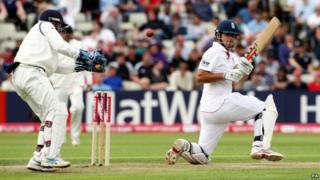 PA
After dominating day one, England's cricketers got even better on day two.
Ending on 456 for 3, they batted all day and look set to post a big score.
They bowled India out for only 224 runs on day one, and are clear favourites to win the match...and therefore the series.
If they do, it will mean they overtake the Indian visitors as the best team in the world rankings.
Alistair Cook was the star of the show, abnd finished on a huge score of 182 without being bowled out.
But even though they are number one team in the world at the moment, India made it easy for them, dropping catches and looking tired.