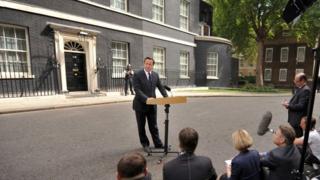 Getty Images
David Cameron says a 'fight back' has started against rioters in England.
Speaking outside his office in Downing Street on Wednesday morning, the prime minister said everything possible would be done to make sure fighting and looting is stopped.
On Tuesday night, violence spread to Manchester, Birmingham and Nottingham - meaning rioting in England has now lasted for four days.
In Birmingham three people died after they were hit by a car.
In London though, it was much more peaceful than nights before and the PM says that's because police and the government have started to fight back.
He said: "We needed a fight back and a fight back is under way" and that police used a "more robust approach" in the capital, which means they are getting tougher on the vandals.
He also said that the hunt is on for people stealing from shops, whose faces have been caught on CCTV.
Water cannon
The prime minister also revealed that he had agreed for water cannons to be used in the future - but only if they are needed.
"While they are not currently needed, we now have in place contingency plans for water cannon to be available at 24 hours' notice," he said.
Water cannons send out really strong jets of water to break up crowds - they've never been used before in England, and the government says that allowing them now shows how seriously it's taking the situation.