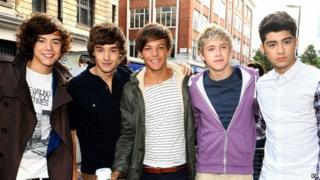 PA
X Factor stars One Direction are "really excited" to launch their first single, What Makes You Beautiful.
Crowds of fans greeted the boys outside BBC Radio 1, where the track got its first play on Wednesday.
Liam said: "We recorded the song ages ago now, so we've just been waiting to get it out there and play it to everybody."
Niall tweeted later: "Feels amazing to have our first play! Thanks... to our amazing fans. Hope you like it."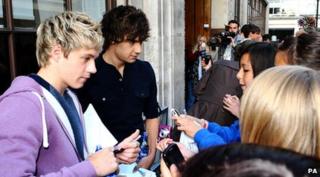 PA
The band are even making a name for themselves in Sweden - where they recorded What Makes You Beautiful - after fans there saw their videos online.
Asked whether they've changed in the past year, the boys said they still get public transport and are only chauffeured about when they travel as a group.
Harry also revealed that he needs regular massages, because of back pain caused by the paper round he used to do!
"There were about 50 houses - some of them with multiple papers - that's a heavy bag for a 14-year-old!"
One Direction were put together by X Factor judges in the 2010 series, after they all auditioned as soloists. They finished third in the competition.