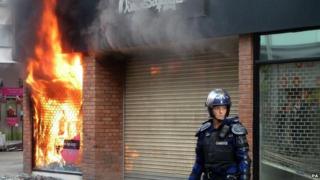 PA
There's been a fourth night of riots in parts of England, with violence in Manchester, Merseyside and the Midlands.
But things in London were mostly quiet - with 16,000 police officers on the streets.
Shops were looted and set on fire in Manchester, Salford, Liverpool, Nottingham and Birmingham.
A police station in Nottingham was set alight after rioters chucked fire bombs at it.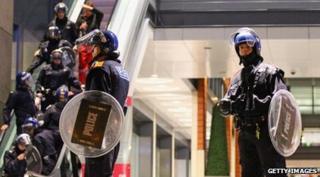 Getty Images
There was also trouble in Gloucester, Wolverhampton and Leicester.
Greater Manchester Police said they faced "extraordinary levels of violence from groups of criminals intent on committing widespread disorder".
A Miss Selfridge store in the city centre was set on fire.
At least 100 people have been arrested in Manchester and Salford, while there were more than 200 arrests in the West Midlands.
Prime Minister David Cameron has vowed to "do everything necessary to restore order to Britain's streets".
In London, police have begun releasing images of suspects thought to be involved in the rioting.
The number of arrests in the capital is now more than 750.