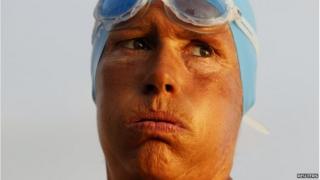 Reuters
American swimmer Diana Nyad has had to quit her Cuba to Florida record attempt.
She wanted to become the first woman to swim between Cuba and Florida, through shark-infested waters, without a shark cage.
The 103-mile swim would've taken the 61-year-old about 60 hours, but after 29 hours, Diana had to stop.
She was suffering with shoulder pain and asthma.
Diana was even throwing up when she was hauled on board one of the boats that was accompanying her.
But she said: "I am not sad, it was absolutely the right call."