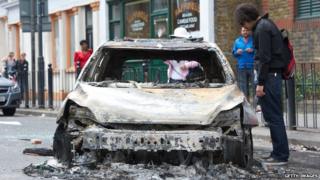 Getty Images
The riots in London and in several English cities have shocked people across the country.
Many stars and celebrities have reacted strongly on the web to what's happened...
Leona Lewis
The X Factor winner wrote online: "So sad, thoughts are with those affected by the London riots."
Leona is from Hackney, which is where the riots started on Monday.
She said to those involved in the riots: "All you're doing is hurting yourself and your own community... This is so mindless and needs to stop, you are ruining our area, wrecking people's homes and businesses."
Alexandra Burke
"Watching the news. This is ridiculous. These KIDS need to stop. What difference is this making? You are taking homes from innocent people."
The singer continued: "Not only homes, but much more. This is NOT the way to get peace... GROW UP! And STOP!!!"
Wayne Rooney
The Manchester United star wrote on Twitter: "These riots are nuts why would people do this to their own country. Own city. This is embarrassing for our country. Stop please."
Rio Ferdinand
"England vs Holland game is off, good call. Who wants to see a game of football when our country is in turmoil?" said Rooney's England and Man United team-mate.
"The scenes on Sky News right now are shocking... What is this all in aid of?? Innocent people, homes and livelihoods have gone up in smoke - why?"
Justin Bieber
"WHOAH...been out of the loop all day. To all the people of the UK I hope you are OK. My prayers go out to you and the amazing people there."
Jessie J
The Brit Award winner said she couldn't understand the violence: "Watching the news. I really don't understand... I don't get it??!!! Why destroy your own community? Why hurt innocent people. This is NOT how to gain respect. This is NOT how to get justice. This is NOT how to gain peace. Am I in a film or real life?!"
Eliza Doolittle
"STOP ruining our city! This is not how to make a stand!" the singer, from Camden in north London, said on Twitter.
"Violence is never the answer to anything."
JLS
Oritse from the chart-topping band wrote to his fans: "Heard about the riots in London, please travel safely guys."
Diane Abbott, MP for Hackney North
The politician in charge of part of Hackney said: "It's appalling. These people are trashing their own community. I'm calling on parents and families to urge these people to come home. The looting has to stop."