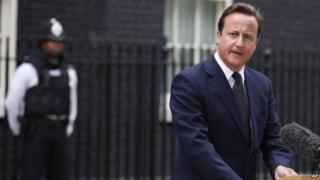 AP
Prime Minister David Cameron has vowed to "do everything necessary to restore order to Britain's streets".
He spoke outside his Downing Street office on Tuesday for the first time since the riots in London, and other parts of England, began.
He condemned the violence, calling them "sickening scenes".
He went on: "I am determined, the Government is determined that justice will be done and these people will see the consequences of their actions."
He warned the rioters: "You will feel the full force of the law."
London's Metropolitan Police today confirmed that more than half of the people they've arrested are younger than 20-years-old.
Speaking directly to the younger people involved, Mr Cameron said: "If you are old enough to commit these crimes, you are old enough to face
the punishment."
Police numbers trebled
Mr Cameron said that "It is quite clear that we need more, much more, police on our streets and we need even more robust police action".
There will be 16,000 police officers on the streets of London on Tuesday night - 10,000 more than there were on Monday.
About 450 people have been arrested since the trouble started, and Mr Cameron said there would be more to come.
The PM also announced that parliament will be recalled for a day on Thursday, so that he can make a statement and hold a debate.