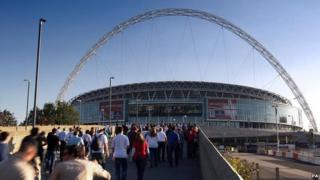 PA
The England football squad has appealed for calm and an end to ongoing disorder across the country.
The statement came after Wednesday's friendly match at Wembley Stadium against Holland was called off.
The Football Association confirmed the news on Tuesday because of safety concerns over the riots.
Meanwhile, England's cricketers are playing the third Test match against India in Birmingham, despite trouble in the city.
Premier League
The weekend's opening Premier League fixtures on Saturday could be in doubt, following a fourth night of rioting across cities England on Tuesday.
Premier League bosses will decide on Thursday whether any matches will be cancelled.
Tuesday night's Carling Cup matches at Charlton, West Ham, Crystal Palace and Bristol City were all postponed.
Safety
A big footy match like an England friendly normally needs lots of police around to keep things safe.
Adrian Bevington, boss of Club England said: "The most important thing at this time is the safety of the fans and the general public."
England defender Rio Ferdinand said on Twitter: "England vs Holland game is off, good call. Who wants to see a game of football when our country is in turmoil?"
Wayne Rooney also appealed for the violence to end, saying on Twitter: "These riots are nuts why would people do this to there own country. Own city. This is embarrassing for our country. Stop please."
Fourth night of rioting
There was a fourth night of riots in parts of England on Tuesday, with violence in Manchester, Merseyside and the Midlands.
But things in London were mostly quiet - with an extra 10,000 police officers on the streets compared to Monday.