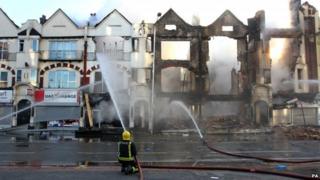 PA
People in London are in shock after the third night of riots in parts of the capital.
Buildings have been set on fire, and shops have been smashed and looted.
The violence has also spread to other cities in England, including Birmingham, Liverpool and Bristol.
Has your area been affected by the riots? What do you think about what's going on?
Are you or your family getting involved in helping to clear up damage?
Remember: it's important that you stay safe and make sure a parent or guardian knows where you are at all times.
Thanks for sending in your comments. This Chat page is now closed.
Your comments:
"It was about 12am when I heard shouting, so I decided to look out the window. What I saw was a big shock... young teens throwing rocks. And because we live on top of a shop I was scared they might get in. I saw people running with TV sets and expensive things. My mum called the police but they said, 'We're helpless'. After an hour I heard a helicopter and I felt much safer, although I didn't sleep all night. When I woke up in the morning our shop window was smashed but it was still in one piece."
Hubbab, 11, Brixton, London
"I couldn't sleep the other night because of the riots. It was so terrible. Luckily we bought supplies for our home a day before the riots happened. On Tuesday there was a fire near our superstore and my dad had to come back from work really early."
Sandesh, 10, Liverpool, England
"I went to my aunt's house in Tottenham on the first night of the riots and it was really scary because when I was asleep I heard smashing glass and people shouting. When I woke my aunt up, we started to smell smoke and we noticed the house opposite us was on fire. Then the day after, we noticed that a row of shops round the corner had been burnt to pieces. It was so terrifying!"
Jo-Anna, 9, Tottenham, London
"This riot needs to stop. it is a nightmare. The shop on our side was smashed yesterday. I had a not so brilliant night, I couldn't stop thinking about the riot and I hope it will stop today."
Daequan, 8, Birmingham, England
"It is really good to see people from the local communities coming together to help clean up."
Luke, 9, Hampshire, England
"I think this is terrible. My dad is a policeman in London and he has not been able to come home. The people doing it should be ashamed of themselves."
Abby, 10, Hertfordshire, England
"They are ruining our country and making a fool of themselves. Also they are not looking clever to other countries either. It's just a disgrace."
Jack, 10, Lancashire, England
"Why do they do this and think it is OK that they are burning down houses and shops and stealing stuff? I feel sorry for the people that are in the middle of these riots."
Courtney, 9, Newcastle, England
"I was shocked to see on the news that Reeves Corner was set on fire, I hope this will clear up soon, all my town is shut off... so please stop this!!"
Jade, 14, Croydon, London
"I watched the violence through my window. I saw the fire at a shop on the TV, then looked through the window to witness the real thing. I also saw police on the main road with dogs. The rioters where throwing fireworks. The police had to protect Morrisons but they came too late as they had already broken into a shop and smashed the till."
Quanna, 11, London
"I just don't get it, these riots started because one guy got shot and his friends and family protested, now they're burning down buildings and breaking into shops in cities that have no significance to the origin of the protests! These rioters are destroying the cities that make Great Britain proud and replacing them with dumps that anybody would be ashamed to live in."
Alice, 11, Manchester, England
"I am on holiday and I heard about the story in Manchester. I live there. I just turned 11 and it ruined my birthday holiday."
Georgia, 11, Manchester, England
"My friend lives in Hackney, London. The riots were happening outside her bedroom window. She said to me "Can I stay round your house?'' When she came round she was crying, she was so worried because her parents were still in the house.
Tia, 9, West Sussex, England
"All I can say is that these riots are a disgrace."
Katie, 11, Somerset, England
"I couldn't sleep last night with all the police and I could smell smoke from outside. Today is my birthday and it's not safe to go out so my party has been called off. It's just awful, I wish this never happened in the first place. I'm really sad and scared, I'm shivering and shaking. I wish this would stop!!"
Natasha, 9, Manchester, England
"My sister is a special in the police and on Tuesday night she had to go out and help the police with the riots. She said that it was very scary putting out the fires and come face-to-face with the rioters and that it was mostly 14-year-old boys stealing and vandalising. I was so worried about her."
Alexandra, 13, Derbyshire, England
"I think it's horrible that our city is slowly beginning to look like a war zone and we're the ones who have to deal with it. It affects everyone and it needs to stop before it gets too out of hand!"
Franka, 14, London, England
"There are people fighting for a good cause in wars and risking their lives for what they believe in. There are people in this country stealing goods from shops. Maybe they need to stand next to the people fighting for their lives and then they might learn something."
Zoe, 12, Hertfordshire, England
"I can't believe people are doing this. My uncle is in Manchester and my auntie is in London. It's so upsetting that people want to attack police, set fire to shops and cars and steal things. I'm so scared that I don't want to go outside without a grown-up at the moment."
Emily, 9, Lancashire, England
"I live near to where the riots were taking place last night and it was so scary listening to it all unfold. I couldn't sleep. Everything felt so dangerous."
Eva-Rose, 9, Manchester, England
"It is just terrible. I live in Stockport and my mum's shop had to close early last night because there were 30 men around the area, some of whom were rioters. And because we're children, we can't do anything to stop it! People think it's OK to riot and destroy their home towns, when it's definitely not! These riots have GOT TO STOP."
Lucy, 9, Stockport, England
"My grandparents live opposite a baby shop in a block of flats and we were going to go there, but the rioting stopped us because it's so dangerous. Looters and rioters.... you aren't just messing up our community - you're messing up your lives."
Leila, 10, Bristol, England
"I am absolutely disgusted. Clapham Junction was a lovely place until now. They have ruined many businesses and people are finding it hard to cope. Over the other side of Clapham common, all I could hear were people attacking the police. It was terrifying. My little sister was in tears as she watched her favourite shop being burnt."
Kitty, 12, London, England
"Living near the centre of Manchester at this moment is terrifying. I have family in the town centre right now trying to get back to their homes but can't because of looters. I knew Manchester would have some tension over the London riots, but this is just unacceptable behaviour which needs to be punished."
Colette, 14, Manchester, England
"I am completely disgusted at this violent behaviour. I live in Ealing, but at the time of all this madness I was in Bayswater. I feel very sorry for the people affected by the rioting. This is just criminal damage and these rioters are taking advantage of people's homes etc. Don't they know what they have caused?"
Jadene, 14, Ealing, London
"These people have no respect for anybody else. Although the riot initially had points, many are just taking part for the looting and to destroy their own communities for fun. Many of my relatives are in places that are being affected and the atmosphere around our house is incredibly tense."
Alan, 13, Lancashire, England
"I was so scared! I used to take my dog Lola for a walk every day! Now I can't! It's not safe anymore."
Natalie, 12, Tottenham, London
"I was really shocked and scared. I couldn't sleep because there were loud noises and loud bangs! I hope this will end soon."
Sophie, 10, Croydon, London
"Last night I couldn't sleep. The night sky was bright orange as the huge fires burnt houses and cars. All I could hear was shouting and police sirens. Why are they doing this?"
Ellie, 12, London, England
"I was right in the middle of the Handsworth riot and there were helicopters circling around our street. I see no point of wrecking other people's homes and lives."
Luke, 10, Birmingham, England
"I have been very lucky and have not been affected by the riots. I've been following it on the news though and last night I looked out of my bedroom window and saw a blazing fire quite far away in the distance. It was big enough for me to see, all those miles away, and there was loads of smoke coming out of the fire. From my knowledge I worked out that it must have been a fire and in the morning I found out that is was a furniture store that had been set on fire."
Imaan, 11, London, England
"It's terrible! There is the Sony Centre not too far away from our house and when we drive round the roundabout we can see the top of the building. But when we get closer there is hardly any building left. This morning we drove through a huge clump of black smoke. We can see it from our house. It's a disgrace to our country."
Iona, 10, Enfield, London
"I was terrified last night because of the riots as my community was being smashed to pieces. I think the people are just doing this for fun, but for many people it's shocking and life threatening. I feel physically sick just thinking about it all."
Samantha, 12, Birmingham, England
"My dad lives about half an hour away from me and I'm too scared to leave my house. This has to stop! I am also very scared as the riots have started in the two towns next to me in Welling and Bromley. I just hope everyone stays safe."
Megan, 10, Kent, England
"This is a serious problem. It hasn't attacked our area that much, but it has caused us to search for food because our supermarket has just closed because of all the rioting. I hope it will be sorted out soon."
Holly, 12, Lewisham, London
"The rioters do not care what they are doing. London must hold the Olympics next year... but that might not happen the way things are going. It's disgusting. I've seen the rioters robbing my parents' shop. I hate it and I wish it would stop."
Sarah, 11, Ealing, London
"Last night my house was surrounded by police and police cars... It's so scary and I could not sleep because my house got on fire and now we are staying at my auntie' s house"
Emma, 10, London, England
"I am really shocked over this. I couldn't sleep that well last night and I'm still panicking. We've got all the radios tuned in and we've got the news channel on. All I can say is they should be ashamed of themselves!"
Kimberly, 12, Birmingham, England
"It has affected me and my family really badly because we live in Hackney. You couldn't sleep with the police car sirens and so much noise. Also I'm sad to hear the England v Holland game was called off as I've been looking forward to it very much."
Hemmam, 14, London, England
"I was shocked when I came out from my friend's house in East Ham. They were looting Argos and Primark. The rioters don't care about the damage they are causing."
Janusha, 9, London, England
"I live in Hackney and now I can't go out to my friend's house or go shopping because my parents won't let me. In two days it will be my friend's birthday and she had to cancel it because everyone is scared to go... this has to stop!!"
Izabela, 12, Hackney, London
"I was shopping yesterday with my older sister and we were told to get out quickly, but we didn't know about the riot in London at that time. When we got out we saw a traffic jam with police cars and ambulances, everybody was looking at the end of the road and all the shops were closing down due to the riot. It was very upsetting news, many people's homes were burnt."
Amy, 12, Newham, London
"We were taking a friend home to Enfield but we couldn't because the roads were closed. He had to stay over at our house out of London. This is shocking."
Max, 10, Hertfordshire, England
"It has affected the places I shop at, it's very upsetting and shocking. I just want it to stop right now."
Holly, 13, London, England
"All of our shops next to us have been burned down and damaged.... why do people do that? They don't realise what they are doing. I couldn't sleep all night because police car sirens were everywhere."
Viktorija, 11, Barking, London
"It's so upsetting what they are doing to shops and buildings. My friend's family shop was burned down. They are very upset right now. These riots have to stop!"
Kathy, 13, Kent, England
"I was shocked to find that the rioting started in Leeds last night, I was terrified and didn't want to sleep. It didn't feel safe. It seems silly that everyone is rioting and wrecking their neighbourhoods and cities pointlessly. It makes me angry that they think doing this is okay."
Bethany, 14, Leeds, England