There's been a third night of violence in London, as riots spread to other parts of the capital - and to several cities across England.
Buildings were set on fire and shops were looted by hundreds of rioters.
Prime Minister David Cameron returned from his holiday early to try to take control of the situation.
Speaking outside his office in Downing Street on Tuesday Mr Cameron said: "We will do everything necessary to restore order to Britain's streets".
Home Secretary Theresa May condemned the riots as "sheer criminality" and said those responsible would "face the consequences of their actions".
Over 500 people have been arrested in London over the past three days - some of them very young.
One 11-year-old boy has been charged with burglary.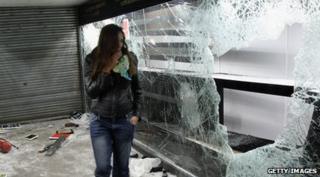 Getty Images
A family-run furniture store in Croydon, south London, that had been going for 140 years was burnt to the ground.
Christian Potts, a resident in Ealing, west London, said: "It looks like a war zone - I have never seen anything like it in all my life."
Wednesday's friendly between England and the Netherlands at Wembley has been cancelled.
Two Carling Cup football games scheduled for Tuesday at Charlton and West Ham have also been called off, following advice from the police.
Monday night's riots began in Hackney, east London, when a man was stopped and searched by police but nothing was found.
Across England, there's also been trouble in Birmingham, Liverpool, Manchester, Bristol, Leeds and Nottingham.
Around 100 people were arrested in Birmingham, where shop windows were smashed and stores were looted.