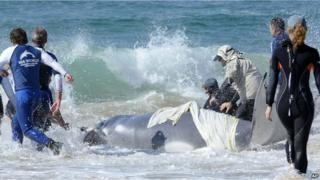 AP
A baby humpback whale that beached in Australia has been returned to the sea.
The week-old mammal was found on Surfers Paradise beach early on Monday, not moving freely.
It had been separated from its mother. Lifeguards and staff from the nearby SeaWorld searched by air and sea but couldn't find the whale's mum.
It took around 50 rescuers to haul the whale back into the water, with the help of two jetskis.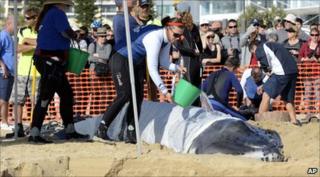 AP
A digger was used to clear a path in the sand, while rescuers poured water over the whale to keep it cool and wet.
Once back in the sea, the calf swam into deeper water, where it's hoped it will be able to find its mum.