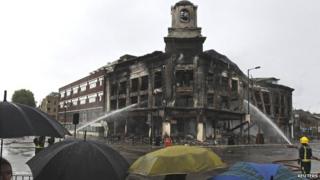 Reuters
Buildings and vehicles were set on fire on Saturday during riots in some parts of London - and lots of people were shocked and angry at what happened.
Council leader Claire Kober said: "This is a place where people live harmoniously, where they are accepted and get along very well together. That is why people feel so angry and disturbed this morning at the scenes we see."
Boris Johnson, the Mayor of London, said: "Never forget that the people who did this were criminals and that their behaviour was criminal behaviour and it is in no way justified."
People are worried about why things became so violent.
The local MP David Lammy said: "I'm concerned that what was a peaceful process turned into this. And that it seemed to go on for many hours before we saw the kind of policing that I think is appropriate."
There were troubles in other parts of London on Sunday night as well.
Nick Clegg, the Deputy Prime Minister, said: "It is completely unacceptable. The people who have suffered are those who have lost their businesses, shopkeepers who have lost their shops, families who have lost their homes and of course many people who have felt very frightened in their own neighbourhoods."
The Deputy Mayor of London said: "It's pretty rotten for London, it does not look good... it is one of the safest, great big cities on earth... this kind of violence is very rare."