What could've caused the worst violence in the north London area of Tottenham in more than 25 years?
Buildings and cars were burnt, shops were looted, and petrol bombs were thrown at police during a weekend of rioting.
Bad feeling had been brewing after local man Mark Duggan was shot dead by police on Thursday as they tried to arrest him. An illegal gun was found at the scene.
Local people were angry, saying that the police hadn't talked to them about what had happened.
But police said Saturday's peaceful protest over Mark Duggan's death was "hijacked" by "mindless thugs".
It's hard to pinpoint one single reason for the rioting, but some people say it's down to tension between local young people and the police.
Student Jake Manu said: "The police never talk to us, they ignore us, they don't think we're human in this area."
Some young people there aren't happy when the police stop them on the street, to search them. But the police say they're doing this correctly.
Many politicians and other officials have condemned the violence.
Boris Johnson, the Mayor of London, said: "Never forget that the people who did this were criminals and that their behaviour was criminal behaviour and it is in no way justified."
Deprived area
Tottenham has some of the highest unemployment levels in London.
Many people there don't have jobs, especially younger people.
Often when there is high unemployment in an area, people can get frustrated with their lives and anger builds.
But most people in Tottenham don't agree with the riots and now feel frightened for their safety.
Echoes of 1985?
The march for Mark Duggan started in the Broadwater Farm area of Tottenham. There's a history of trouble between police and local people there.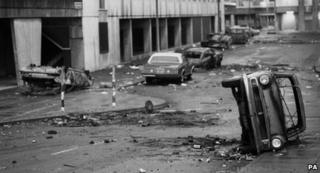 PA
The last time things were this bad was during the Broadwater Farm riots back in October 1985, when a policeman was killed.
Those riots started when a woman died of heart failure after four policemen burst into her home during a raid.
The 1985 riots were seen as a battle between mainly black young people and mainly white police officers.
But these latest riots aren't being seen as a racial battle. Local youth worker Michelle Jackson said she saw people from all nationalities and ages rioting on Saturday night.
Local resident Norma Jones said: "It's young people and the police, but not a black and white thing at all."