Parts of London were hit by violent riots over the weekend, with buildings and vehicles set on fire, shops looted, and petrol bombs thrown at police.
The violence began in Tottenham on Saturday, following a peaceful protest over a local man who was shot dead by police who were trying to arrest him.
Police found an illegal gun at the scene.
Two police cars were set on fire, and later on a carpet shop and a double-decker bus were also burned.
London's Deputy Mayor called the riots "disgusting and shocking".
26 police officers were injured on Saturday night, while many people in Tottenham have seen their homes and businesses destroyed.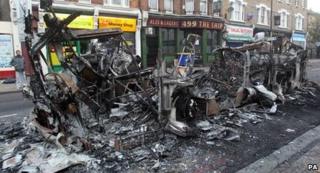 PA
Several shops were looted, with some people seen taking away trolleys filled with stolen items.
There was more violence and looting across London on Sunday night, in what police called "copycat" activity by criminals.
A Foot Locker shop in Brixton, south London, was set on fire. People said they saw several hundred people looting an electrical store there.
Three police officers were hit by a vehicle in Waltham Forest, east London.
More than 160 people have been arrested in connection with the weekend's violence.
An investigation's been launched into what happened on Thursday night, when 29-year-old Mark Duggan was shot dead by police trying to arrest him.