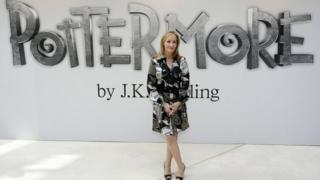 AP
Harry Potter fans are being warned to watch out for fake Pottermore accounts offered for sale.
JK Rowling's website, which will give fans more stories from the world of Potter, doesn't open until October.
But fraudsters are selling fake accounts they claim give early access, and fans are re-directed to websites which have bugs.
Some accounts are being given away in a competition, but Pottermore says it could close any accounts sold online.
Pottermore said: "it deprives genuine fans the chance to gain early access."
The competition runs every day from 31 July to 6 August and about one million 'test' accounts will be given away to fans.
Internet security experts found out con-men are offering to register people for this challenge and are getting hold of their personal details as a result.
Also, some scammers are supposedly selling Pottermore accounts for about $100 (£60) via eBay.
While many of these are likely to be fake, some are being offered by fans who have set up more than one account for Pottermore.