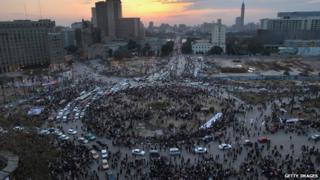 Getty Images
Thousands of anti-government protesters have left Tahir Square in Egypt's capital Cairo after President Mubarak said he was standing down on Friday.
Egypt's new military rulers have dissolved the parliament and said they'll stay in power for six months, or until elections can be held.
Lots of the protesters have welcomed the news as a chance for a fresh start.
They spent 18 days demonstrating before President Hosni Mubarak decided to quit on Friday after 30 years in power.
Monday has been declared as a bank holiday in Egypt to give people time to try to get things back to normal.
On Sunday, the higher military council, which is now running Egypt, said it would organise a group to come up with a new constitution - or set of rules - that Egypt should be run by.
In the past, the country's constitution has stopped lots of political parties and groups from standing in elections.