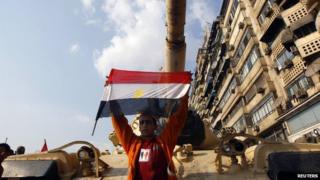 Reuters
Egyptian President Hosni Mubarak has quit as leader of his country after 30 years in power.
Vice President Omar Suleiman announced the decision on Egyptian TV on Friday. He said the armed forces would be in charge of the country for the moment.
It's a huge moment for thousands of protesters who've been demonstrating for 18 days, calling for Mubarak to go.
Protesters in Cairo's Tahrir Square celebrated with cheering, flag waving and hugging.
On Thursday evening, President Mubarak went on TV to say that he wouldn't hand over power until after September's elections.