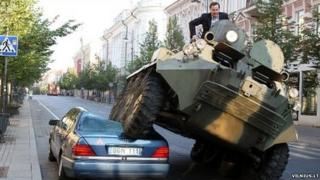 Other
The mayor of Lithuania's capital, Vilnius, showed off an unusual approach to dealing with illegally parked cars by crushing one with a tank!
Arturas Zuokas, who is a keen cyclist, drove the armoured tank over a Mercedes car that was parked in a cycle lane.
When the car's owner arrived, Mr Zuokas said: "That's what will happen if you park your car illegally."
The stunt was filmed for a Swedish TV show. After the car was towed away Mr Zuokas hopped on a bike and rode off.
Mr Zuokas has introduced several bike schemes and cycle lanes in Vilnius to try to encourage more residents to take up cycling.
Talking to the Small World News Service, he said: "You have to have a sense of humour in my line of work and I thought this would be a way of drawing attention to the fact that the city intends to be proactive in its fight against illegal parking."