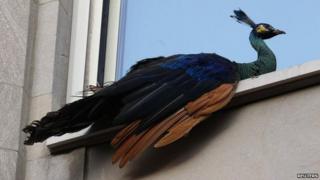 Reuters
A peacock has been strutting his stuff on the streets of New York after escaping from a city zoo.
The male bird later attracted big crowds as he rested on a window ledge several storeys high, at a building across the road from Central Park Zoo.
His keepers said the exotic escapee wasn't a risk to anyone and they're hoping he'll fly home soon. If he doesn't, they'll go and get him.
The peacock is the third animal to escape a New York zoo this year.
In May, a peahen fled the Bronx Zoo. A cobra escaped at the same zoo in March.
The peahen managed to strut around the Bronx for at least a day before it was rescued by a garage owner.
Despite being missing for nearly a week, the cobra didn't get very far and was found in a dark corner near its tank.