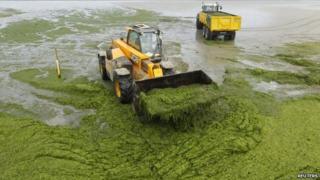 Reuters
France is struggling to remove massive mounds of seaweed which have washed up on some of its beaches.
The green algae is harmless to humans when it's fresh, but can give off toxic fumes when it starts to rot.
Scientists reckon that it could have been caused by dung from pig farms finding its way into the sea, which causes seaweed to grow really fast.
They think that dozens of wild boar which have been found dead nearby could have been killed by the gases.
A small number of beaches in the north-east of the country have been closed.
Local officials say the problem is nothing new and everything is being done to clear all the seaweed away.