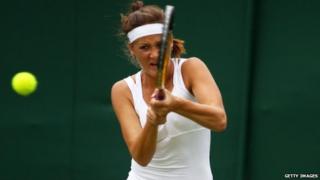 Getty Images
Even if you're bad with directions, you've probably never made a mistake like this...
Tennis player Bojana Jovanovski from Serbia went to play in a competition in America but ended up 900 miles away after travelling to the wrong town.
Instead of going to Carlsbad in California, she went to Carlsbad in New Mexico!
She made it to the right place with just 30 minutes to go before she had to play, but she lost the match.
When Bojana landed in the wrong town she waited for her taxi for 15 minutes in the airport which was nearly empty. She then called tournament officials.
The 19-year-old said: "They were at the airport and looking for me. I said I was the only person here!"
The official realised the mistake and asked if she was in the Carlsbad in California or New Mexico.
So Bojana, probably feeling pretty embarrassed, had to spend the night in the New Mexico town before taking an early flight to get to California.