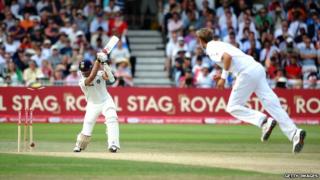 Getty Images
England's cricketers have thrashed India in their second Test match at Trent Bridge.
The English batsmen notched up a very impressive 544 runs in their second innings and then bowled India out for 158.
It means they won by 319 runs with a day to spare.
England are now 2-0 up in the four-match series against the world number one side.
Tim Bresnan was the hero for England on the fourth day, scoring 90 runs and taking five wickets.
If England win one more Test this series, they'll take the top spot in the world rankings.