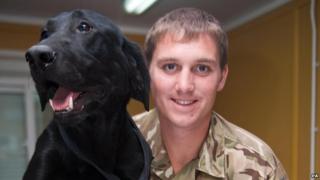 PA
He might look like any other pooch but Hobo is one special dog!
Just ten days ago he was badly injured in a Taliban attack while out on patrol with troops in Afghanistan.
The black labrador was hit three times by shrapnel and had to be airlifted to safety after troops gave him first aid on the front line.
Amazingly the lucky lab was back on his feet just two days later and was able to join his regiment after a week.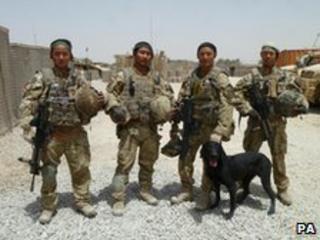 PA
Hobo is a specially trained bomb sniffer dog so spends a lot of time on the front line with the soldiers.
Patrol leader Captain George Shipman is one of the troops who tried to save Hobo after the attack.
He said that it was harder to treat the dog than a human "because I couldn't explain what was going on.
"Hobo's become one of us, bounding around the patrol base all the time, so we're very fond of him."