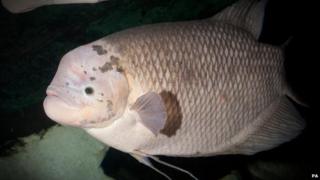 PA
A chocoholic fish called Gary has had to be weaned off his favourite snack, Kit Kats.
The giant gourami has moved on to a healthier menu of grapes and bananas.
Staff at the Sea Life London Aquarium were very confused when the massive 4kg fish refused to eat.
They later realised he'd been brought up on nothing but chocolate Kit Kats!
So the team stuffed chocolate inside grapes to fool Gary into eating fruit.
"I have never heard of a fish being fed chocolate, let alone being brought up entirely on the stuff," said Gary's handler, Rebecca Carter.
She also advised against it: "We would not recommend feeding fish confectionery of any kind."
They're worried that, although it sounds funny, it's actually very serious when private owners don't know how to look after their fish properly.