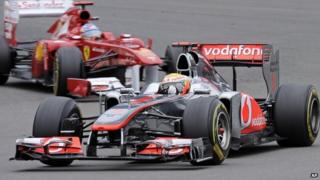 AP
Lots of footie, rugby and cricket matches are only shown live on Sky and from next year, half of Formula One races will be too.
It costs broadcasters big money to show these sports live on their channels. But if you don't have Sky at home, you could end up missing your fave sports.
Do you think top sports should be on channels that you don't have to pay extra money for?
Or do you have Sky at home and it's not going to be a problem for you?
Whatever you think, we want to know. Get those comments racing in!
This Chat page is now closed for the weekend. Please come back on Monday to send us your thoughts!
Your comments
"I don't think it is worth it, as it costs the companies BIG time."
Annabelle, 10, Dumfries and Galloway, Scotland