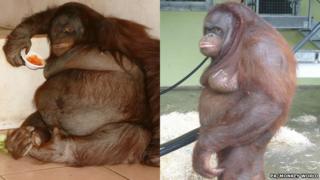 PA
One of the UK's fattest orangutans has lost a fifth of her body weight thanks to a strict diet of fruit and veg.
Oshine weighed a whopping 100kg - twice her normal weight - when she arrived at Monkey World in Dorset from South Africa, where she was kept as a pet.
She used to enjoy a diet of sweets, jelly and marshmallows, but her new keepers cut them out and over the past 11 months she's lost 20kg.
Alison Cronin from Monkey World said: "Oshine has turned her life around."
Oshine was brought to the UK after being offered to the rescue centre by her owner in South Africa.
Her weight had rocketed over the years thanks to her sweet tooth and lack of exercise, and when she arrived in Britain Ms Cronin said Oshine was the fattest orangutan in the country.
Oshine still needs to lose another 20-50kg, but she's definitely on the right track. Her keepers say she's exercising more and has even adopted an orphaned baby orangutan called Silvestre.