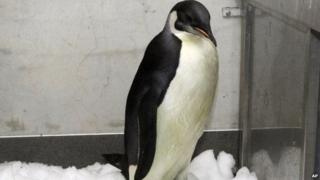 AP
A young emperor penguin found washed up in New Zealand is nearly well enough to try swimming home to the Antarctic.
Happy Feet, as he's been named by staff at Wellington Zoo, needed an operation to remove sand from his stomach after being found on Peka Peka beach in June.
Now zoo staff say he's made a really good recovery and has been practising his swimming in icy water.
It's hoped he'll be released back into the wild early in August to make the 3,000km journey home to Antarctica.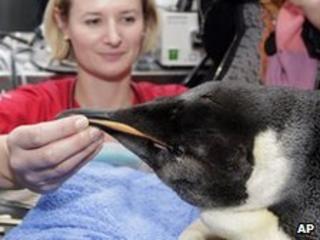 AP
When Happy Feet was first found, he seemed healthy and experts didn't want to interfere.
But they changed their minds when he became ill after guzzling down sand from the beach thinking it was snow.
Emperor penguins usually eat snow so their bodies have enough water and to keep them cool.
It's thought that Happy Feet ended up on the beach after getting lost while hunting at sea for food.
To make him feel at home Happy Feet is being kept in a specially chilled room with a bed of ice to sleep on.