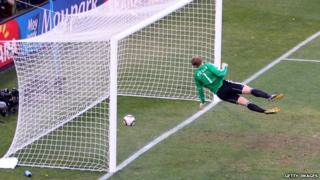 Getty Images
The days of being annoyed by your favourite team having a goal disallowed when you're convinced the ball went in could soon be a thing of the past.
World footie bosses Fifa are putting the latest goal-line technology through its paces for accuracy and cost.
If they're happy with the results, it could be used in the Premier League by the start of the 2012-13 season.
Lots of footie fans believe goal-line technology will stop unfair disallowing of goals, but not everyone's a fan.
Some people would prefer goal decisions to be made by the referee and linesmen, and until recently, it seemed Fifa boss Sepp Blatter agreed with them.
But he changed his mind during the 2011 World Cup, when a Frank Lampard goal against Germany was disallowed, leaving England crashing out of the tournament in a 4 -1 defeat.
Action re-plays showed that the ball HAD gone over the line and should have been allowed. Mr Blatter apologised for the mistake and said it was unforgivable.
Now it's a waiting game for footie fans, as the International Football Association Board won't make their final decision about whether to make goal-line technology a permanent feature of big league games until March 2012.