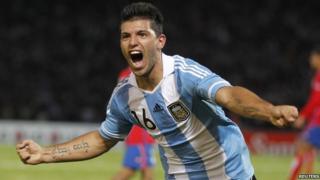 Reuters
Manchester City have snapped up hotshot striker Sergio Aguero from Atletico Madrid in a whopping £38million deal!
The Argentina international said he's joined a club that will be "fighting every year to win major trophies".
Man City bosses announced on Thursday evening that Aguero had signed a five-year contract.
Aguero is City's most expensive signing ever, breaking the £32.5million paid to Real Madrid for Robinho in 2008.
People thought that a host of top clubs from around Europe were interested in signing 23-year-old Aguero, but only City were able to meet Atletico's price.
Aguero signed for Atletico Madrid from Independiente in 2006 and went on to score a total of 74 goals in 175 games - and has since become one of the brightest prospects to come out of Argentina in recent years.
Last season he shone at Atletico, netting an impressive 20 goals, which created even more interest in his emerging talent.
As well as having an impressive strike rate in front of the goal, he also possesses a lightning-fast pace, an array of dazzling skills, and a hard work ethic on the pitch.
City manager Roberto Mancini will be hoping that Aguero will not only have the firepower to help the Blues challenge for the Premier League title this season, but that he'll also fill the void which could be left by want-away striker Carlos Tevez.
And good news for City fans - Aguero has been touted as being the next Diego Maradona, who's reckoned to be Argentina's greatest ever player!