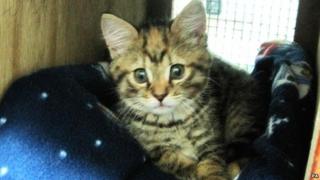 PA
A kitten has survived nearly an hour in a washing machine cycle when she was shut in by mistake.
Princess, who's eight-weeks-old, jumped in while her owner's back was turned, who assumed she was somewhere else in the house in Aberdeen.
But when the wash finished she discovered the animal clinging on to a pair of jeans.
Princess is healthy again after being nursed by the Vet Now Emergency Clinic.