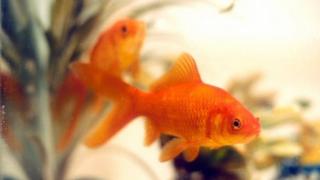 Two goldfish have been found alive 134 days after the huge earthquake which struck New Zealand, in February.
The fish, which were kept in a tank in an office, had no-one to feed them and no electricity to power their tank water filter before they were rescued.
It's thought they survived by eating algae that formed on walls of the tank, which also kept the water in their 100-litre tank clean.
The earthquake killed 181 people when it devastated Christchurch in February.
Company director Vicky Thornley discovered the fish when she was let back into the office for the first time earlier this month.
The building had been closed since the earthquake over fears it was unsafe. She was amazed to see the two fish were alive. Although they were a little pale, they appeared to be in good health.
There used to be six goldfish in the tank. One fish has died, while there was no trace of the other three.
The fish have now been adopted by Ms Thornley's 5 year old son Joshua, who named them Shaggy and Daphne after characters from Scooby Doo. They're now living happily in the same tank as his other fish - Scooby and Fred.
Although none survived as long as the goldfish, hundreds of pets were rescued in the weeks that followed the quake.
One animal rescue centre has reported it found homes for most of the 115 dogs, cats, roosters and turtles it rescued from Christchurch.