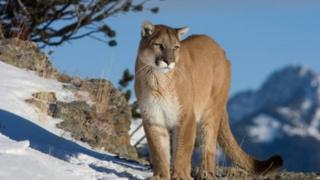 Other
A mountain lion has made the longest-ever recorded journey of a land mammal, scientists say.
The cat walked nearly 2,000 miles halfway across the USA, before sadly it was killed by a car on the east coast.
During its journey it was even spotted at a school in New Jersey, and it walked all the way from South Dakota to Connecticut.
The mountain lion, also known as a cougar or a puma, is a type of big cat native to the western hemisphere.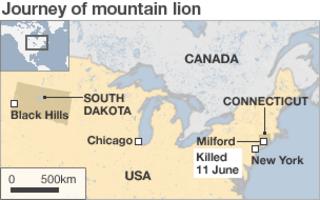 (C) British Broadcasting Corporation
DNA tests showed the cat came from the Black Hills of South Dakota, 1,800 miles away from where it died.
The journey from South Dakota to Connecticut meant the mountain lion went around Lake Michigan, passed Chicago, Ohio and western Pennsylvania and then north of New York City.
A spokesman from the Conneticut Department of Energy and Environmental Protection said: "The journey of this mountain lion is a testament to the wonders of nature and the tenacity and adaptability of this species."