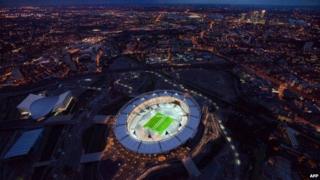 AFP
It's exactly one year on Wednesday until the London Olympics 2012 finally kicks off.
To mark the fact, events were held all across London to celebrate, with lots of famous athletes taking part.
Tom Daley made his first dive into the pool at the new aquatics centre and synchronised swimmers formed the number one in the pool.
Prime Minister David Cameron told thousands gathered in Trafalgar Square, London's would be the "greatest games".
The design of the medals will also be revealed on Wednesday evening at the free event.
Lord Coe, the man behind London 2012, said about 23 million applications have been made by two million people for tickets. And 250,000 people had also volunteered to help out at the games.
The opening ceremony of the Games will take place in the Olympic Stadium on the evening of 27 July 2012.