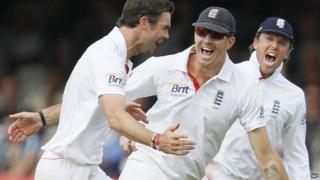 AP
England's cricketers are a step closer to becoming the world's top Test team after storming to a 196-run win over India in the first Test at Lord's.
Captain Andrew Strauss praised his bowlers after they dismissed India for 261 runs in their second innings.
James Anderson took five wickets for just 65 runs, while Stuart Broad took three for 57.
England now have a 1-0 lead in the four-match series. The second Test starts at Trent Bridge on Friday.
India's cricketers are currently top of the world rankings, but if England win the series by 2-0 or more, they'll overtake them.