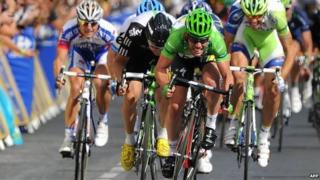 AFP
Cyclist Mark Cavendish has become the first British winner of the Tour de France's prestigious green jersey.
On Sunday he won the final stage of the Tour de France in Paris. It didn't mean he'd won the whole race, but the points awarded made him the highest scoring racer overall in the competition this year.
Mark is from the Isle of Man and first competed in the Tour de France in 2007. Since then he's won twenty stages of the race.
The green jersey is normally won by the best sprinter in the race, the more famous yellow jersey is awarded to the rider who completes the whole course in the least time. This year that went to Cadel Evans who became Australia's first Tour winner.
The polka-dot jersey went to Spain's Samuel Sanchez, he was the best at riding in the mountains. Pierre Rolland from France got the white jersey, for being the best young rider.