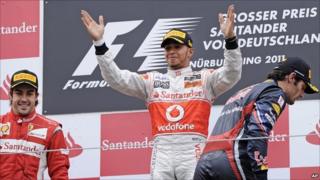 AP
Lewis Hamilton raced to victory in the German Grand Prix on Sunday.
He finished ahead of Ferrari's Fernando Alonso and Red Bull's Mark Webber to get his second win of the season.
It wasn't such a great race for his McLaren team-mate Jenson Button. He had to retire for the second race in a row.
Lewis is now 82 points behind championship leader Sebastian Vettel with just nine races left to go. But he says he's determined to try to catch him.