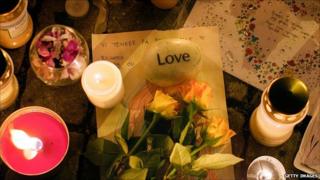 Getty Images
A minute's silence was held in Norway on Monday to remember the people killed in the bomb blast and shooting last week.
More than 70 people died in the attacks in and around the capital city Oslo.
Police have arrested and charged a man called Anders Breivik.
Breivik has admitted that he was behind the attacks which killed people in two parts of Oslo last Friday.
In the first attack a bomb was left in a car near some Norwegian government buildings in the centre of Oslo. It exploded on Friday afternoon and killed at least eight people.
The blast smashed out the windows of the prime minister's offices and the boom could be heard right across the city.
The second, and most deadly attack was on the nearby island of Utoeya. Here he shot dead at least 68 people before being captured by a police SWAT team who had travelled from Oslo by car and boat.