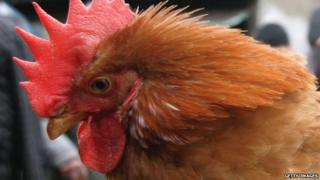 Getty Images
A cockerel's been ordered to stop crowing by the local council because it's waking the neighbours up!
People living in Potterspury, Northamptonshire, complained about Cockadoodle's early morning wake-up calls.
The council made recordings of the bird - and found the crowing lasted for up to 45 minutes at a time!
Now Cockadoodle's owner has been told he must stop him from making a sound between 6:45 and 7:30 in the morning.
Owner Carl Welch has been keeping Cockadoodle in the garden with 12 other chickens, but is now sending him to a new home in Lincolnshire.