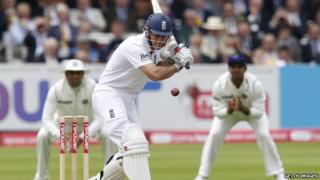 Getty Images
England are playing India at Lord's and it's a big deal because it's the 2,000th match in the history of Test cricket!
India's team are the world's best side but England, ranked third, could snatch the top spot if they win the series by a good margin.
Are you a huge fan of cricket? Do you play the game at school or with your friends in the park?
Or is cricket not your thing and you don't know what all the fuss is about?
Whatever you think of the sport, we want to know! Get bowling those comments in.
Your comments
"I like to watch cricket because it's really interesting but I'm not very good at playing it."
Kesha, 14
"I think cricket is a really boring sport, all you do is throw or bat a ball. I really don't know why people get so excited about it, it's just a sport."
Megan, 9
"I like cricket because it is a great, fun sport. And it is sometimes very energetic. I am a very good bowler!"
Sajanika, 10
"I don't really understand cricket because I don't find it very interesting to watch or to play."
Lauren, 11
"I am very passionate about cricket as it is easy to play like golf. I support Hampshire Royals."
Zahid, 13
"Cricket is amazing. There are excellent batting and bowling tecniques. My favourite teams are Yorkshire, Hampshire and Surrey. I am very good at it!"
Abdul, 8
"I think cricket is a boring sport because all you have to do is throw the ball and hit it. I think football and swimming are better."
Hector, 9
"I love cricket, it's fun to play and a good hobby to take up. I do agree that it can be boring to watch, Sam, but when you have a proper lesson it's more fun."
Hannah, 11
"Cricket is a really boring sport in my opinion and people get too excited about it. It makes you look like a knight in armour and can be very dangerous. Having played it at school, I can see it is a little attractive but it is not my cup of tea."
Sam, 13
"I love cricket cos it is a very interesting sport and anything can happen even when you're losing. It's easy to understand and it's a very popular sport all aroud the world."
Halimaah, 12