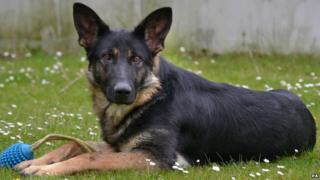 PA
Meet the dog who is all bark and no bite!
Vegas was turned down by Northumbria's police force after they decided she wasn't brave enough to be a police pup.
The 19-month-old German Shepherd, whose father's a police dog, was being trained to join the police dogs section. But she was scared of kids and noise, and too timid to bite!
Her trainers are now trying to find her some new owners somewhere quiet, so she can enjoy her early retirement.
Sergeant John Sim, one of the police dog trainers, said: "Vegas unfortunately didn't possess the necessary qualities to make it as a police dog. Surprisingly not all dogs find it natural to bite.
"She is very nervous around children so would require an adult-only home, with owners with plenty of breed experience and time to devote to her."