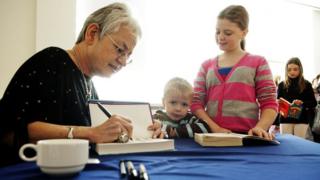 We've all seen how messy Tracy Beaker's bedroom is, but how tidy do you think author Jacqueline Wilson's room was when she was younger?
The writer of the Tracy Beaker books is putting her childhood bedroom on show in an exhibition in Newcastle, to try to show that anyone can be an author.
Wilson grew up in Surrey and says that she wrote her first book at the age of nine.
She hopes to show fans that you only need a pen and paper to be a writer.
Visitors will be able to look at her favourite books from when she was younger and even meet her favourite toy - a cuddly dog named Vip.
The exhibition at Seven Stories, the national centre for children's books, will have some of Jacqueline's notebooks and drafts (practice runs) of Tracy Beaker and some of her other books will be on display to show kids how much work goes into writing a novel.
Crew members from the Beaker TV show will also be on hand to reproduce the famous living room from the series.