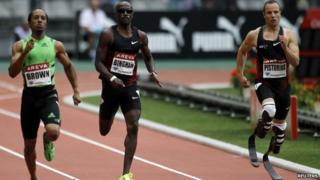 Reuters
South African runner Oscar Pistorius is one race closer to qualifying for a spot at the 2012 Olympic games.
The athlete nicknamed the Blade Runner was born with a bone condition which meant both his legs were amputated when he was a baby.
He runs on carbon fibre blades but is so speedy that he races with able-bodied athletes.
He ran 400m in a mega 45.07 seconds making him eligible for selection for the South African Olympic squad.
Pistorius to had fight to be allowed to compete in competitions against able-bodied athletes.
Reuters
Some people were worried that his carbon blades gave him an advantage against the other runners as he was using less energy to run.
But he was able to prove that it was more difficult for him to race because he has less blood to provide energy and no calf muscles to help him run.
When he was younger he played rugby union, water polo and tennis and only began running in 2004 to help him recover from a rugby injury.
Pistorius has already got four gold medals at the Paralympics under his belt and holds world records for disabled athletes in the 100m, 200m and 400m.
He'll be hoping to add a few Olympic medals to his collection at the London games next year.