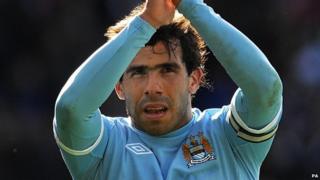 PA
Manchester City's star striker Carlos Tevez isn't going anywhere just yet - his deal to move to Brazilian club Corinthians is OFF!
City thought they were going to get £40million for Tevez.
But Corinthians have pulled out, saying there isn't enough time to complete the deal before Brazil's transfer window closes on Thursday.
They have said they still want to hire Tevez in the future, and hope to agree something in January.
Tevez has said publicly that he wants to leave Manchester so he can be closer to his family in Argentina.