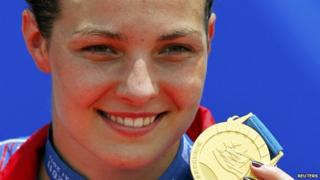 Reuters
Swimmer Keri-Anne Payne has become the first athlete to qualify for team GB at the 2012 Olympics.
She grabbed her place after winning gold in the open water 10km race at the World Championships in China.
She completed the tough race in a winning two hours, one minute and 58 seconds. Keri-Anne is looking forward to competing in London now.
She said: "To be on that Olympic team at a home Olympics is going to be absolutely amazing.
"It's a weight off my shoulders. I can concentrate on training now for next year and I don't have to worry about qualifying because I've already done it."