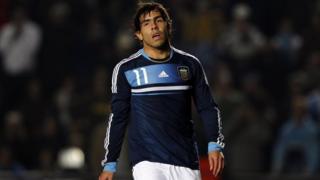 Reuters
The sale of Man City star Carlos Tevez to Brazilian side Corinthians has hit a deadlock.
City boss Manchini had said that a deal had been reached between the two clubs.
But the player's agent has told BBC Sport that they hadn't yet made any agreements with the South American team.
Previously Tevez had said that he wanted to leave City so he can be closer to his family.
Last week City turned down an offer of £39m for the striker - it's thought they were hoping for around £50m.
Moving to South America would make it easier for Tevez to see his two children.
Tevez, who joined City from Manchester United in the summer of 2009, is under contract with City until June 2014.
Last season he was joint top scorer in the Premier League, finding the back of the net with 20 goals.