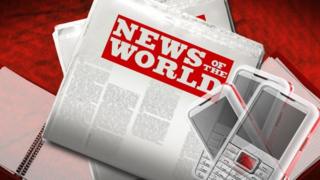 Resignations, arrests and accusations of corruption: we detail the major events in the newspaper phone-hacking scandal.
20 July
Prime Minister David Cameron makes an emergency statement in Parliament, telling MPs that "with hindsight" he would not have hired ex-News of the World editor Andy Coulson.
He says "Of course I regret, and I am extremely sorry, about the furore it has caused."
19 July
Rupert Murdoch and his son James Murdoch were questioned by MPs in Westminster about the scandal.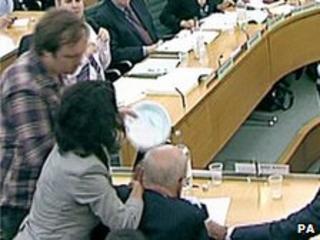 PA
Mr Murdoch apologised to the people who've had their phones hacked, but he said he wasn't personally to blame for what happened.
The thing that got everyone talking was the moment a protestor chucked a plate of shaving foam at Mr Murdoch during the meeting.
17 July
Rebekah Brooks is arrested at a London police station. She is interviewed, then bailed by police.
Head of the Met Police Sir Paul Stephenson quits his job.
He was Britain's most senior police officer and had been criticised for hiring former News of the World executive Neil Wallis - who was questioned by police investigating hacking - as a PR adviser.
16 July
Rupert Murdoch puts full-page adverts in many national newspapers apologising for what he calls "serious wrongdoing" by the News of the World. The advert says: "We are sorry for the serious wrongdoing that occurred."
15 July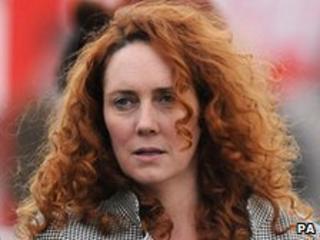 PA
Rebekah Brooks resigns as chief executive of News International after working there for more than 20 years.
In an email to staff, she says she had to resign to avoid distracting attention from the company as it tries to "fix the problems of the past". David Cameron calls her resignation "the right decision".
13 July
News Corporation, the parent company of News International, withdraws its bid to takeover BSkyB by buying more of the company.
10 July
The final edition of News of the World is published. The Sunday paper had been printed for 168 years.
7 July
News International chairman James Murdoch, the son of the big boss Rupert Murdoch, announces that the News of the World will close after one final edition.
5 July
Prime Minister David Cameron calls it a "truly dreadful act". Rebekah Brooks, who was editor of News of the World at the time the accusations of hacking took place, is at this time the boss of News International.
She sends an email to all staff working there saying it was "inconceivable" that she knew about the hacking.
4 July
Reports emerge suggesting that investigators for the News of the World had hacked into the mobile phones of victims of crime. They're accused of listening to - and possibly deleting - the messages.