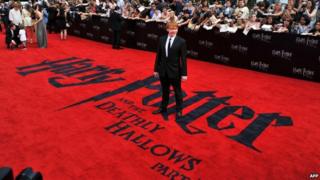 AFP
The final Harry Potter film has broken more records by taking £26million in its first weekend in the UK.
The Deathly Hallows: Part 2 broke the records for the UK's biggest three-day weekend, the biggest Friday result, the biggest Saturday result AND the biggest single day figures.
Harry Potter and the Deathly Hallows: Part 1 set five UK records last year - but Part 2 has broken four of them.
It is the eighth and final film in the blockbuster magical movie series.
In America the record-breaking movie took more than $90m (£56m) in ticket sales on the first day alone!
Over the first weekend that it was out, the movie took $168m (£104m) in cinema ticket sales smashing the old record set by Batman: The Dark Knight.
Movie buffs reckon that it will be the first film to make over $1bn (£622m) at the US box office.