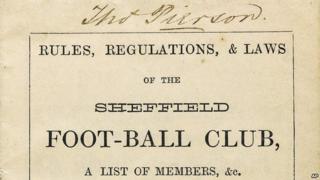 AP
Most of us have had a run-in with a dodgy referee on the pitch - but would you trust him if he was carrying this?
The world's oldest football rulebook has been sold at an auction for a whopping £881,250 in London.
The handbook belonged to Sheffield Football Club who claim to be the oldest football club in the world.
The club sold off the item to raise some more money for the team. The book was bought by a mystery bidder.
A lot of things on the pitch have changed since the book was written in 1857 - but some of the rules have stayed the same!
The book describes what players have to do to be able to take a free kick and what should happen if the ball hits the crossbar.
It also says: "pushing with the hands is allowed but no hacking or tripping is fair under any circumstances whatsoever."