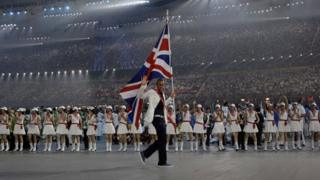 AP
The opening ceremony's one of the most popular parts of the Olympic experience - but some British athletes won't be allowed to go along in 2012.
Traditionally, competing athletes from each country form a parade during the ceremony.
But that won't be the case for Great Britain's track and field team next year.
UK Athletics head coach, Charles van Commenee says it won't be good for them as there'd be lots of standing around.
He says: "They would not go shopping for eight hours before their biggest event so why would you be on your feet for that long?"
Even though the ceremony takes place a week before the athletics begins, Charles isn't keen: "It doesn't fit in the professional preparation for the biggest event of your life."
He says the athletes can be part of the closing ceremony instead.