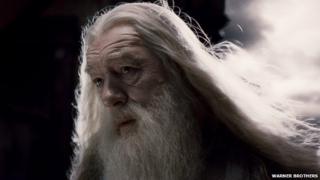 Warner Brothers
The last ever Potter film, Harry Potter and the Deathly Hallows Part 2, is finally out in the cinemas.
To celebrate, we at Newsround want to know who YOUR favourite character is.
Is it Severus Snape who was voted the greatest Harry Potter character in a recent MTV poll? Is it the boy wizard himself, or maybe his mortal enemy Lord Voldemort?
Or is there another character that you think is way better than the rest?
This comments page is now closed, but you can read some of the best comments below.
Your comments
"Fred and George Weasley are soooo funny! They are definitely the best characters."
Alla, 10
"I think Dumbledore is my best character because he was very intelligent and the best wizard in the world!"
Thomas, 11
"Dobby. Although he is a comparatively minor character, Dobby is so kind and caring and he died to save his friend."
Liv, 11
"I love Hermione and in my opinion she is the best character. Also Emma Watson portrays her really well in the films."
Izzy, 11
"I like all of them but most of all Harry Potter because without him there would be no story!"
Jaz, 10
"My favourite character is Bellatrix because she is the best Death Eater and she is mad!"
Jordan, 12
"I can't choose, I love them all! but if I had to it would be Nyphmadora Tonks, she's awesome!"
Asma, 11
"Ginny Weasley is my favourite character, she is smart, funny, talented and she loves Harry!"
Cat, 10
"I love Dumbledore. All my friends think I'm like him!"
Meme, 11
"Neville Longbottom is my favourite character because no matter what he does he still manages to look really cool in his knitted cardigans!"
Niamh, 14
"I think Xenophelious Lovegood is the best character, or Luna Lovegood, because they are completely mad and bonkers like me!"
Aiden, 12
"My favourite character is Hermione because you become quite close to her because she's a main character. I also love Bellatrix - well I also hate her 'cause she killed Dobby and Sirius - but I love her personality and the way she always does a little evil laugh."
Amber, 10
"I like all the characters but Harry Potter is probably the best because he never gives up!"
Qurrata, 11
"Dumbledore is the best character because he is so mysterious and Harry never really knew what went on his head."
Priyanka, 13
"Obviously Snape was voted as the best character but actually it should be the Weasley twins - always comical, always funny."
Krystian, 11
"I think Snape is the best character because his story is so sad and romantic - he loved Lily and he died to save her son, Harry."
Ruby, 11
"Harry Potter is the best!"
James, 9
"Dumbledore is my fave character because he really doesn't let on much about himself."
Ruby, 12
"Hermione Granger is my favourite character."
Lola, 8